Welcome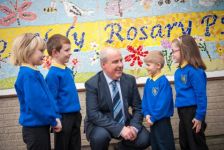 You are very welcome to our website which I'm sure will provide you with lots of information about our school. We are a warm, welcoming school community that wants and expects the very best for our pupils who are at the centre of what we do.
As well as the normal information that can be gained from a website we have added a twitter feed that includes all the latest news, a calendar and a Google translate bar that can be used on any of our pages.
If you can't find what you are looking for or think that something else should be added let us know and we will be glad to help.
Best Wishes,
Paddy McAllister (Principal)
Upcoming Events...
Thursday, 22nd March 2018
HSA Family Bingo Night (7pm-8.30pm in school)
P2 Chinese club (14:00 - 15:00 Ms Ward's room)
Friday, 23rd March 2018
English classes for parents 15:30 - 17:00 (Crèche available for children age 0-4)
English classes for new pupils (2:00 - 3:30)
Sunday, 25th March 2018
Do This In Memory Mass. (10.30am Good Shepherd Church)
Watch our Holy Rosary P.S. Mission Statement Video
Article of the Month
9th Mar 2018
Look at our amazing designs... Our World Book Day competition is amazing! The designs...