P7 Miss Hyland
Welcome to Miss Hyland's Primary 7 class.
It has been an extremely busy start to our Primary 7 year. We have been working hard in all our lessons and learning about Healthy Living within the World Around Us. We created wonderful self portraits using oil pastels which have been displayed in our classroom. We are very talented in Primary 7!
We have also been continuing to develop our ICT skills by taking part in weekly lessons with Mrs Cooke and Miss Hyland. We recently completed a 'Healthy Living' Poster using the 'Pages' app on our iPads. We are now moving on to learning about coding using the 'Hopscotch' app. Within Literacy we have been developing our understanding of different writing genres and recently created a blurb for a story. We then used the app 'PicKids' to present our blurbs.
We are enjoying taking part in Spanish and Chinese lessons on a weekly basis.
We are looking forward to many new experiences this year from taking part in 'Taster' days with various schools in our locality to learning about new topics.
Staff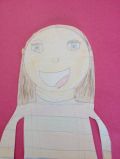 Miss B Hyland
Teacher (P7)
Holy Rosary Primary School, Sunnyside Crescent Belfast Down N. Ireland BT7 3DB | T: 028 90491817 | E: info@holyrosary.belfast.ni.sch.uk

WEBSITE BY: SCHOOLWEBDESIGN.NET | Login